Prenatal Vinyasa Yoga Online Teacher Training Introduction
Prenatal Vinyasa Online Yoga Teacher Training
This training is offered in two study track options: The Self-Study Course and the Certification Course.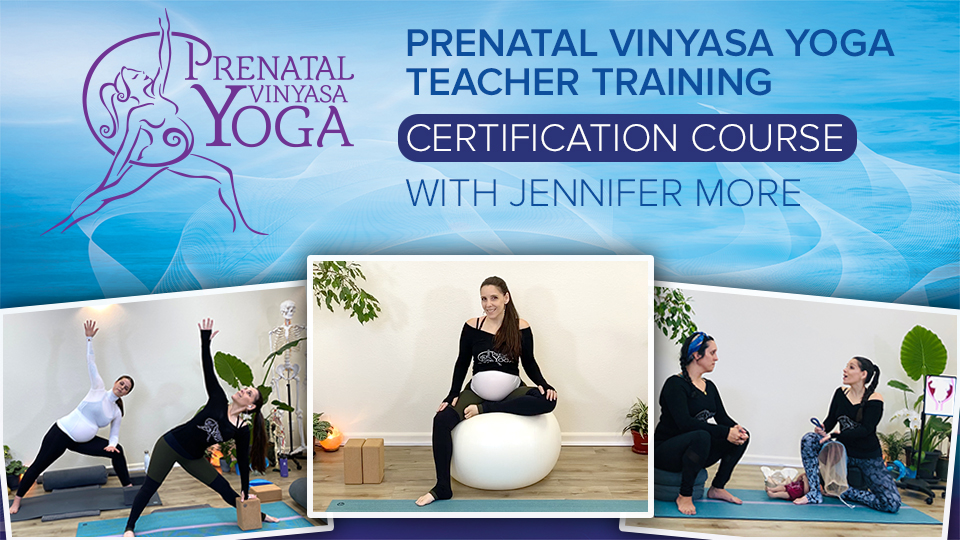 Certification Course
Dig deep into the world of prenatal yoga, pregnancy anatomy, childbirth education, postnatal yoga, and much much more as Jennifer More shares information and experience from her extensive career working with prenatal and postpartum people as well as her over 10,000 hours spent with laboring women as their doula. This depth of experience has been distilled down, researched, filmed, and edited in to a concise package designed to teach students what they need to know to safely teach prenatal and postnatal yoga - or just to learn much more about their bodies as they prepare for their own pregnancies.
This course will certify students to teach prenatal and postnatal yoga and it is eligible for the RPYT from Yoga Alliance if you are an active member.
This certification course is offered in 2 parts:
Pre-Recorded Course content
Students will watch 60 hours of pre-recorded videos. These videos can be watched at any convenient time. We just ask that students have watched the course content for each section before the corresponding Live Zoom Sessions. Each video is well organized, covers a specific topic, and is presented at a length that allows students to fit this course into their busy schedules.
Live Zoom Sessions
Students will also meet with Jennifer and other students for 20 hours. These live meetings allow students to ask questions, practice asana, and generally learn more about each section of the pre-recorded course content.

The Certification Track includes:
60+ hours of video instruction
155-page manual
20+ hours of interactive video time with Jennifer and your groups
Individual assessment of teaching techniques
Course completion Certification
Eligible for Yoga Alliance RPYT if you are an active member
Private Facebook Group Membership
Sept/Oct 2022 Live Zoom Session schedule
There are 9 zoom meetings plus 1 assessment meeting (scheduled at the end of the course).
Live Zoom Sessions, Weekend 1: January 13-15
Live Zoom Sessions, Weekend 2: January 27-29
Live Zoom Sessions, Weekend 3: February 11-12

There are 2 possible meeting times for each day of the live zoom sessions.
Time slot A: 10:00-12:30 or Time slot B: 17:00-19:30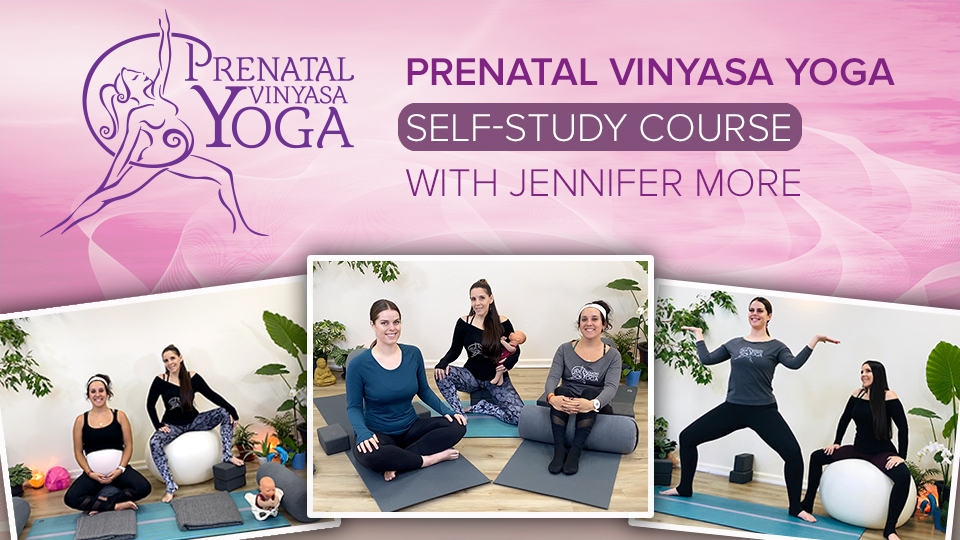 This track is ideal for students who already have a prenatal yoga certification or are not interesting in receiving a certification. Students in this track will not have any interactive time with Jennifer. This track allows students to move through the material at their own pace. Students who wish to, may upgrade their track option and join the next available online course.
The Self Study Track includes:
50+ hours of video instruction
155-page manual
Private Facebook Group Membership
Course Available Now
If we want to make the World a better place, we need to start with birth!
Jennifer More is a Registered Yoga Alliance Vinyasa and Prenatal Yoga instructor (E-RYT500 & RPYT), Certified Master Clinical and Medical Hypnotherapist, Doula, Childbirth Educator, Reiki master and a Mother.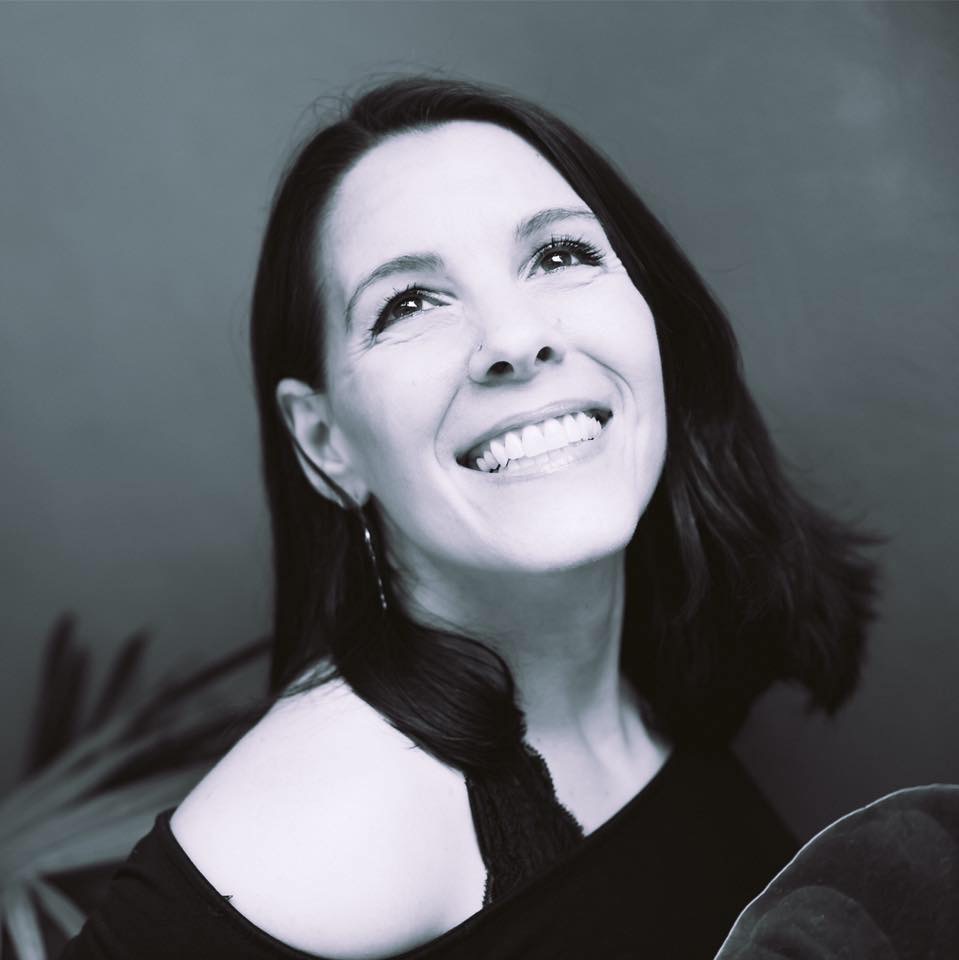 Jennifer's passion for the benefits of prenatal yoga extends beyond the United States. She has trained yoga instructors in Peru, China, Colombia, Dubai, Bali, Mexico, France, Germany, The Netherlands and Australia, as well as many US locations in her Prenatal Vinyasa Yoga technique. Now with her online trainings she has trained students in about fifty countries. Her style has also given yoga instructors the tools to modify poses appropriately in order to incorporate pregnant women into their existing flow classes in a safe and effective manner. Countless women from all over the world have contacted Jennifer and credited her yoga techniques with improving the quality of their pregnancies and their birth experiences. In 2002, Jennifer opened the Dolphin Yoga and Doula Center, (now Dolphin Doula) to help laboring women and their partners prepare for positive birth experiences by providing knowledge, tools and a comforting environment for prenatal health and childbirth. Dolphin offers Doula and Postpartum Doula Services, Childbirth Education, Doula Training, Advanced Doula Training, and other childbirth preparation classes and events. Jennifer's love for yoga and passion in the field of pregnancy and childbirth has propelled her to reach out to medical practitioners to help build a bridge between the medical community and doulas. As a hypnotherapist for the past twenty-five years, Jennifer pioneered the Dolphin Method, which uses hypnosis for gentle birthing and anxiety reduction during labor. She has prepared thousands of pregnant women for childbirth and provided doula support in more than 450 births and has spent over 10,000 hours with laboring women. Jennifer was an educator at the Palo Alto School of Hypnotherapy, where she offered the Dolphin Method and Childbirth Hypnosis certification as well as pain management to doulas and hypnotherapists.
Jennifer and the training were amazing and I couldn't recommend it more highly. She is extremely professional, knowledgable, accessible, patient, kind and the material is absolutely applicable to putting the teaching methods into useful practice. I am exceptionally grateful to have taken her training and as a result, have been teaching an abundance of prenatal yoga over the past few years.
~Heather B
Jennifer has not just an in depth understanding of prenatal anatomy but she's also extremely passionate about the whole process and it comes through her transmission. I felt really inspired and prepared after her course to start working with pregnant women and to create a safe space for them to experience their changing bodies and connection to their babies through the practice of yoga.
~Mesi T
I left the school with complete confidence in teaching prenatal students, Jennifer is really good at what she does.
~Ranya B
Doing the Prenatal Vinyasa Teacher Training with Jennifer was one of the best decisions of my life. I have done two teacher trainings and one skills workshop with her, and I look forward to taking another one of her trainings or workshops in the future. The knowledge she shares and the way in which she prepares us really give us the tools to teach safe, enjoyable and beneficial prenatal yoga classes. I am very grateful to both Jen and Jake and look forward to seeing/studying with them again in the future!
~Laura L
Jennifer is an amazingly talented pregnancy yoga teacher trainer; she is extremely knowledgeable, creative, approachable, and resourceful. I guessed her training would be great, but it was way beyond my expectations. Highly recommend to anyone, male/female teachers, and even if don't intend to focus your teaching on pre/postnatal
~Marie-Laure H
I am so grateful to have attended this professional prenatal training. It helped to built up the knowledge system about women and the whole pregnancy. We are trained to think、practice、and teach in a loving way, considering all personal needs the pregnant women may need in the class as much as possible. Most importantly, I was surprised how much and how prepared I could become after the training. Most of my doubts and fears of teaching a pregnant woman were dispelled by the methods and knowledge we learnt there. Now I am more and more confident to help those beautilful ladies and their babies. I would definitely recommend this training program to my friends or yoga teachers who are interested.
~Fangfang C
The whole training was very well structured. The content was clear and understandable. Jennifer is a great teacher and making whole teaching approachable for each student. She made sure that all students understood.
~Sarka N
It was a great and complete prenatal yoga program. I simply loved it.
~Sandra H
Jennifer is the most professional and knowledgeable prenatal teacher I have ever studied with. She is my lifelong teacher and I am excited to go join other trainings that she offers.
~Belle C
The Dolphin Method is a very professional Prenatal Yoga training center, not only provides efficiency method to help prenatal women getting family with their daily changed body and tell us how to practice in safe way which established and promoted based on a mount of scientific research and training experience, but also it awakes our care and mental respect about prenatal women who experience their most important transformation in lives. When I studied all the courses during these days, the pure and kind sprit of Teacher Jennifer More encouraged me to explore and do more work in this field, it's an amazing time and I really enjoyed with all the classmates and the teacher, thanks for God leading me into the courses meeting with so many beautiful souls.
~Able C
Jennifer is an inspiration for anyone. I learned a lot about Yoga Pregnancy, anatomy and lost the fear of teaching a Prenatal Yoga class. This TT has been one of the best experiences of my Yoga carreer.
~Jimena M
Jennifer is a wealth of knowledge. I took so much away from this course. It left me feeling confident to teach and hold space for pregnant women.
~Amanda W
This was an excellent training. I left feeling extremely confident with my abilities to work with pregnant women aswell as being able to help and guide other teachers with prenatal vinyasa yoga. Jennifer More went far and beyond. The training covered so much. I am so happy that I traveled all the way to Bali to be trained by a magnificent teacher with so much knowledge and wisdom on this subject. Truly the best!!. Thank you.
~Ozzie A